Finally! The book that gives exact formulas for all hydrogen peroxide's amazing uses!
Scientific research confirms what home remedy enthusiasts always knew-…hydrogen peroxide is an amazing and powerful disinfectant, sanitizer, and natural remedy solution!
Hydrogen peroxide has been universally hailed for its unmatched antiseptic and antibacterial properties. It is widely used in hospitals, clinics, schools and offices to successfully treat everything from minor cuts and scrapes to ulcers and parasitic infections. Hydrogen peroxide makes an ideal pH stabilizer for garden soils and ponds. It has truly earned its name as the agent-of-choice for hundreds of home health remedy and cleaning applications.
But, many times, we are left with more questions than answers when using peroxide. While numerous books have been written on its amazing uses, we are still left to wonder the specifics of "how much" and "how often."…UNTIL NOW!
"Exactly how much hydrogen peroxide do I use?"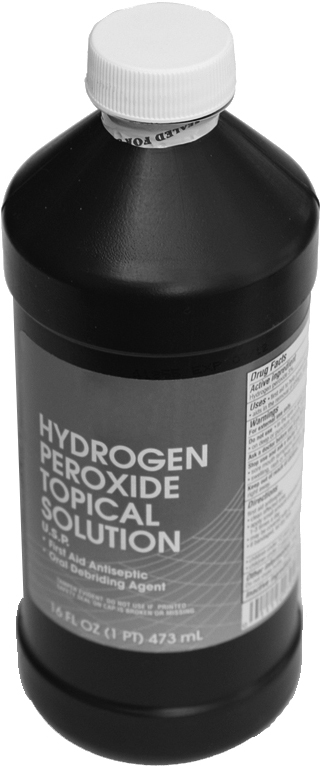 Emily Thacker, author of the best-selling Vinegar Book and Vinegar Formula Guide is proud to make available the new Hydrogen Formula Guide. This one-of-a-kind book gives you all the exact measurements and formulas for ALL of your hydrogen peroxide applications! In it you'll find step-by-step, easy-to-use instructions for better health and using peroxide around the home in each and every listing. What could be easier?
Why this book?
This groundbreaking, innovative book takes all the guesswork out of using hydrogen peroxide. No longer will you need to wonder, "How much hydrogen peroxide should I use to treat my arthritis?" You will never again have to struggle with deciding, "Should I use 3.5% or food grade hydrogen peroxide in my garden?" The Hydrogen Peroxide Formula Guide gives you all the specifics for EACH hydrogen peroxide application.
In it you'll learn:
Which type and strength of hydrogen peroxide is best recommended for each situation
Exact formulas and measurements for each use
Easy, step-by-step instructions
Indexed for quick reference
Large, easy-to-read print
Frequently asked questions section
No more guesswork!
The Hydrogen Peroxide Formula Guide is chock full of all the specifics for your most pressing home remedy needs in one easy to use reference manual. And that means no more guessing!
You'll learn fabulous, real working formulas for how to:
Soothe muscle aches and sprains
Bring relief to arthritis sufferers
Treat rheumatism and fibromyalgia
Disinfect cuts and scrapes
Heal irritating cold sores
Treat itchy athlete's foot
Combat flu and cold symptoms
Relieve insect bits and stings
Heal yeast infections
End allergy and sinus problems
Sooth an aching sore throat
Treat ear aches and infections
Kill bacteria and heal gingivitis
Treat nail and foot fungus
Heal skin infections
Get rid of age spots and rashes
Bring relief to sore feet
Lighten hair and skin
Relieve digestive problems
Beat migraine headaches
End acne and more!!
If you can use a recipe, you can use the Hydrogen Peroxide Formula Guide!
Hydrogen peroxide is inexpensive to purchase and is always readily available at any grocery or drug store. This readily available liquid can take the place of countless health and remedy aids, beauty products and household cleaners. And chances are, peroxide can already be found in your own pantry! So why not find out what hydrogen peroxide can do for you! You have nothing to lose!
Tired of trying to guess the right proportion of hydrogen peroxide to use? The Hydrogen Peroxide Formula Guide means no more guesswork! If you can read a recipe, you can use the formulas in this book. Using hydrogen peroxide is now mistake proof!
Hydrogen Peroxide Formula Guide is packed with amazing formulas for household cleaning and gardening, such as:
Disinfect and clean bathrooms
Clean deeply soiled laundry
Sanitize wood cutting boards
Disinfect a bathroom
Deodorize coffee pots
Treat a garden
Balance soil pH levels
Make your own streak-free cleaner for windows and mirrors
Getting rid of mildew and soap scum
Remove ugly carpet stains
Free clogged drains
Treat septic tanks
Make a safe, powerful scouring powder
Clean and sterilize dentures
Remove red wine, ink and blood stains
Get rid of skunk smell on pets
Boost laundry detergent
Make your own pretreater
Get rid of odors in drains and septics
Clean tile grout and molding
Bring new life to hardwood floors
Treat garden plants and soil
Make plants flourish
Make a safe hand sanitizer
Kill and disinfect kitchen germs much more!
Finally, a book that answers all your hydrogen peroxide questions in a format that is easy to use. With The Hydrogen Peroxide Formula Guide you will never again wonder if you are using the right peroxide strength for the job. Each and every application tells you what kind of peroxide to use, AND gives you a step-by-step formula to follow. Nothing could be easier!
You'll have exact instructions for putting hydrogen peroxide to use around the home immediately. There is even a section answering many of your most frequently asked peroxide questions, such as:
What is the difference between 3.5% and food grade hydrogen peroxide?
Can I substitute different strengths of hydrogen peroxide?
Where can I buy hydrogen peroxide in bulk?
How should I store hydrogen peroxide? and more!
The Hydrogen Peroxide Formula Guide covers every topic imaginable! Use it for better health and around the home. And because hydrogen peroxide is a natural element composed mostly of water, it is safe for the environment. It is natural, without many of the side-effects found in some medications. Because it does not contain harmful chemicals found in commercial cleaners, you can feel safe using it for all your household needs!
The new Hydrogen Peroxide Formula Guide is a concise reference manual that lists hundreds of the most fantastic and amazing uses for hydrogen peroxide, all written in easy-to-read, recipe-style format.
Free Gift! Order from this ad and you will also receive a copy of our new booklet "101 Best Health Tips Ever" just previewing the book. You'll discover tips for a healthier you, just for previewing a copy of this book. "101 Best Health Tips Ever" is yours to keep with our compliments, even if you decide to return the book.